The Fight Against Climate Change
   Each year, the number of deaths due to weather and abnormal storms increases. Our congressmen and congresswomen need to take action to improve our environment and prevent unnecessary deaths due to these weather fits. 
   Homes and items with an abundance of sentimental value are left in ruins and will never be seen again. Families are separated forever and lives are torn apart. If the people that we entrust with the high office of senator and representative of the state would have taken action sooner, this would not have happened. CBS News reported that in the last 20 years, around 480,000 people have died from "extreme weather."  
   In 2022, there has been a number of extreme weather incidents ranging from deadly floods to cyclones. Unfortunately, research has shown that it is the poorer countries that are hit the hardest by the weather catastrophes. 
   In March, Mozambique was hit by a tropical cyclone that killed 50 people. The death toll was not estimated to be that high, as scientists believe that cyclones hitting Africa are getting stronger. Their working theory is that the Indian Ocean is getting warmer, which increases the power of the cyclones. If climate change had been controlled sooner, more people would have survived. 
   In April, the Philippines experienced a tropical storm that killed 123 people in a remote community. The rain showers made searching for missing people extremely difficult. Citizens were forced to evacuate their homes and even their cities. 
   Southern U.S. States have experienced many tornadoes during the course of this year. "People Magazine" ranked Alabama number one for having the most tornadoes of any state this year. As of April, Alabama had faced 110 tornadoes. Taking that into account, Maryland only had one tornado warning in 2022 as illustrated in the graphic below.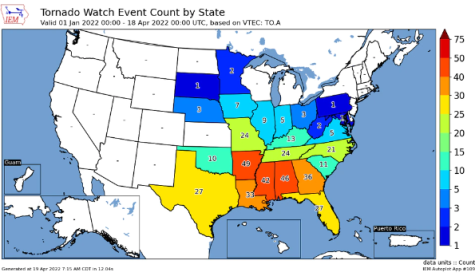 During the winter season, people were trapped inside their homes due to unusually high snow falls. In other places, it got too hot. During March of this year, Antarctica, the coldest place on this planet, reached up to 70 degrees above normal temperature. This is extremely abnormal and if this is prolonged, this could cause disastrous effects.
   In Antarctica, there is a glacier nicknamed "the doomsday glacier," and is the size of Florida. Scientists recently observed that it is "hanging on by its fingernails." If it melts, global sea levels are predicted to rise by 10 feet. 
   For India, March was a month for the books. They experienced high temperatures that had not been seen in 122 years.  
  The past few months alone, storms have caused immense damage to a number of countries. On Sept. 19, a powerful earthquake shook Mexico and certainly left its mark causing buildings to crumble. It is heartbreaking how many people lost their homes and businesses.