Washington Capitals Skate Past Opponents To Start Their Season
   On Wed. Oct. 13, The Washington Capitals had the first puck drop of their 2021-22 season against the New York Rangers. Starting the season with star-forward Nicklas Backstrom on the long-term injury reserve list, rookies and seasoned veterans gave it their all. With Vitek Vanecek in goal, the Capitals defeated the Rangers 5-1 with star captain Alex Ovechkin scoring twice.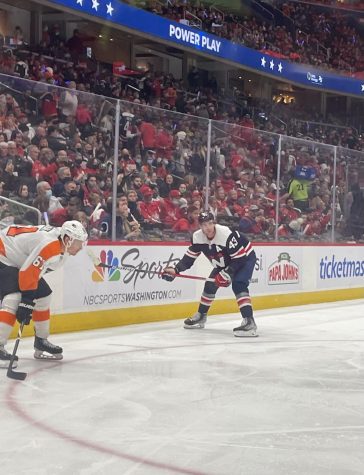 On that special opening night for the Capitals, their very own Ovechkin moved closer to becoming the all-time goal scorer, the current titleholder being Wayne Gretzky. Ovechkin tied Marcel Dionne for the fifth-most goals scored in NHL history. Hendrix Lapierre scored the first goal of his NHL career in his debut and the Washington Capitals made their season opener one for scoring instead of fighting. 
   So far this season the Capitals are ranked first in the Metropolitan Eastern conference, with a record of 14-4-5, scoring a total of 33 points so far. Captain and star left wing of the Capitals, Ovechkin has been crushing goals with a total of 19 goals. After winning the Stanley Cup in 2018, the Capitals soon fell in the first round of the 2019 playoffs to the Carolina Hurricanes. Since the sad loss for all of the DMV, the Capitals have been on a climb back to the top. 
   When the Capitals gave up past star-goalie Braden Holtby after the 2019-20 season, they placed Ilya Samsonov starting in goal, with a current record of a .910 save percentage and 2.57 goals against average in his entire NHL career (drafted in 2015).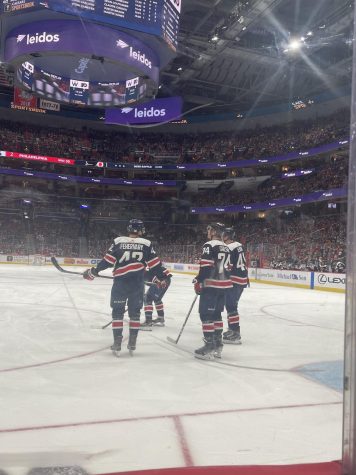 With the 2021 season soon to peak, the Capitals have had to overcome many barriers with injuries from star players. Even while dealing with those injuries, the Capitals have pulled up many people, such as Brett Leason, Aliaksei Protas, and Zach Fucale from their AHL affiliate Hershey Bears. Twenty-six-year-old Fucale was pulled from the Bears and was the fifth Capitals player to make his NHL debut this season. While Washington was without T.J. Oshie who's out with an injury to his left foot for the sixth straight game, Anthony Mantha is out with a shoulder injury for the third straight game and Nic Dowd for the first game since his lower-body injury against Buffalo. Nicklas Backstrom has not played this season due to an ongoing hip injury. On the week of Nov. 11 Fucale was pulled from Hershey and was the first goaltender in Capitals history to post a shutout in his NHL debut, stopping 21 shots as the Capitals beat the Detroit Red Wings. On Dec. 6, while the Capitals had a shootout victory against the Anaheim Ducks, star right-wing Tom Wilson scored his 100th goal, joining the "century goal club." The Capitals are on a roll this season, and they are not even close to being done.