COVID-19 Finds its Way into the NHL Again
The NHL Postpones Games Due to COVID-19 Concerns
   COVID-19 has drastically altered the way that professional hockey has operated over the past few years. As the winter approaches, so do the COVID-19 cases, causing the league to put halts on operation. With the Beijing winter Olympics arriving soon, these outbreaks slim the chances for selected athletes to participate.
    The National Hockey League is undoubtedly one of the leagues hit hardest by the pandemic. The league has had its fair share of COVID-19 outbreaks in prior occurrences, but this Dec. has been the worst by far. According to ESPN's Emily Kaplan, this situation has put the NHL league office in "triage mode." With the virus working its way through almost every single one of the 32 teams, the NHL has taken enhanced measures to allow the league to operate safely and efficiently. These measures include, but are not limited to, no club-organized holiday parties, daily COVID-19 testing, and avoidance of public transportation. The entire list of measures can be found here. 
    With the Beijing winter Olympics moving closer, any pause in the NHL season would likely eliminate any possibility of seeing NHL players in the games. The NHL has until Jan. 10 to opt out of the Olympics without a financial penalty. Kaplan stated it's "looking very unlikely" that players will participate in the games. These chances diminish further as more players enter COVID protocols.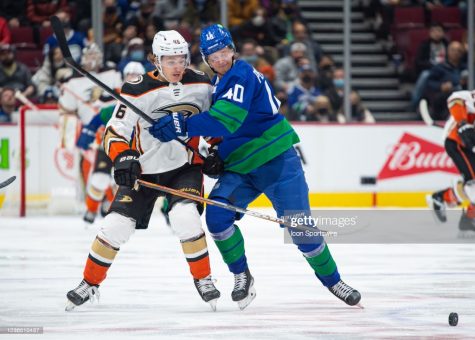 Due to teams being located in both Canada and the United States, the league has banned cross-border travel through the holiday break. This means Canada-based teams cannot compete against U.S.-based teams, causing a large amount of games to be postponed. NHL Public Relations issued a statement about these postponements, "Due to the concern about cross-border travel and, given the fluid nature of federal travel restrictions, effective on Monday, all games involving a Canadian-based team playing a U.S.-based team from Monday, Dec. 20 through the start of the Holiday break on Dec. 23, will be postponed and rescheduled."
    The NHL and the NHL Players Association joined forces to come to a consensus about the leagues unforeseeable future. "We will continue to play the 2021-22 regular-season schedule. Although there has been a recent increase in positive COVID test results among players, coaches and hockey staff, there have been a low number of positive cases that have resulted in concerning symptoms or serious illness" they announced in the statement released. As of Dec. 20, the league has placed over 100 players on the COVID-19 protocol list. The entire protocol list can be found here.
On Dec. 21 the NHL decided to postpone all play until Dec. 27.