Time capsules uncovered beneath Robert E. Lee statue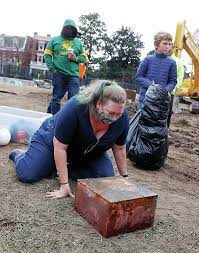 After overlooking Market Street Park for over 103 years, the statue of Robert E. Lee was removed on Sept. 8, 2021. The removal of the statue was mostly caused by the rise in racial protests that took place from June-October 2020. As shocking as the statue's removal was to the residents of Richmond, what was found beneath the statue was far more unexpected. On Dec. 17, 2021, workers discovered a lead box underneath the base of the statue and just nine days later they dug up a smaller second box made of copper.
   Workers were able to successfully remove the boxes after several days and handed them over to a conservation team led by State Archaeological Conservator at the Virginia Department of Historic Resources, Kate Ridgeway. From there, the team of conservationists x-rayed and measured the capsules to try to get an idea of what was inside. Many people speculated about the possibility of a rare photo of Abraham Lincoln being in one of the capsules but that rumor ended when no such thing was uncovered.
   The first time capsule was an 1875 lead box that contained water-saturated books, coins and soggy hand-written letters. Historians believe that the artifacts in the box originally belonged to residents in Richmond at the time. Despite the box being subjected to water damage for over a century, the relics that were found in the capsule were in better condition than predicted. Unfortunately, the team of conservationists only allowed the relics to be viewed for a few hours before sealing and storing them to preserve their natural form.  
   The second capsule was a 36-pound copper box whose contents included Confederate army money, coins, buttons, books, an 1865 Harper's Weekly magazine that contained a picture of a girl crying while leaning over Lincoln's casket and two handmade products: a Masonic symbol and a Confederate flag. The flag was allegedly made from the wood of the tree that hung over General Stonewall Jackson's original grave. While these artifacts are extraordinary pieces of history no one has been able to identify who these items actually belonged to. The statue was relocated to storage along with other documents and artifacts found at the site.