Tom Brady Officially Announces Retirement
    Tampa Bay Buccaneers quarterback, Tom Brady, has officially announced his retirement after over 20 years in the NFL. Within his career Brady has gathered seven Super Bowl rings, the most championship wins by a single player. He has also won five Super Bowl MVP titles.
    The quarterback took to Instagram to formally announce his retirement. "I have always believed the sport of football is an 'all-in' proposition — if a 100% competitive commitment isn't there, you won't succeed, and success is what I love so much about our game,".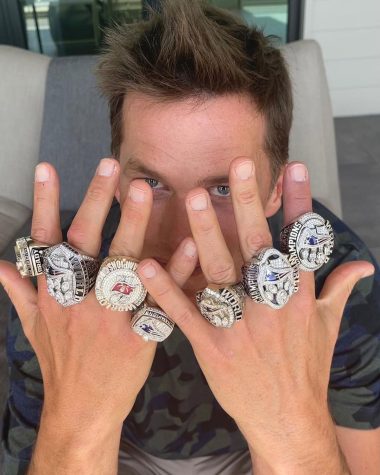 Brady shattered records left and right, paving the way for underdogs just like him. He piled up records such as most passing yards (84,250) and most touchdown passes (624). Although he was under-looked in the early stages of his career, Brady is widely regarded as one of the greatest football players of all time. 
    The New England Patriots, former team of Brady, stated on Twitter, "It was quite the ride. Thank you and congratulations, @TomBrady." Brady had won 6 Lombardi trophies with the Patriots.
     The Tampa Bay Buccaneers also made a statement on Twitter, "Memories to last a lifetime. Thank you, 12. #GoBucs" Brady led the Buccaneers in 2021 to win the franchises first ever Super Bowl. 
   In regards to the Buccaneers, "To my Bucs teammates the past two years, I love you guys, and I have loved going to battle with you," Brady said in his post. "You have dug so deep to challenge yourself, and it inspired me to wake up every day and give you my best. I am always here for you guys and want to see you continue to push yourselves to be your best. I couldn't be happier with what we accomplished together."
"My playing career has been such a thrilling ride, and far beyond my imagination, and full of ups and downs," Brady said in his statement. "When you're in it every day, you really don't think about any kind of ending. As I sit here now, however, I think of all the great players and coaches I was privileged to play with and against — the competition was fierce and deep, JUST HOW WE LIKE IT. But the friendships and relationships are just as fierce and deep. I will remember and cherish these memories and re-visit them often. I feel like the luckiest person in the world." 
Thank you, Tom Brady for giving this generation a lifetime of memories, long live #12.
Click here to read the whole statement.
Update: Tom Brady has un-retired, which is not a surprise.