Washington Unveils New Name: Washington Commanders
   The Washington Football Team finally has a name: Washington Commanders. Washington announced its new name, logos, and uniforms on Feb. 2, 2022.
    "As an organization, we are excited to rally and rise together as one under our new identity while paying homage to our local roots and what it means to represent the nation's capital," Daniel Snyder,  co-owner and co-CEO said in a statement. "As we kick-off our 90th season, it is important for our organization and fans to pay tribute to our past traditions, history, legacy and the greats that came before us. We continue to honor and represent the Burgundy & Gold while forging a pathway to a new era in Washington. Today may mark the first day for the Washington Commanders, but we are and always will be Washington."
"It's about the opportunity we have to unify a set of people under a burgundy-and-gold banner…. People still love this team" President of the Commanders, Jason Wright told the press about the new name.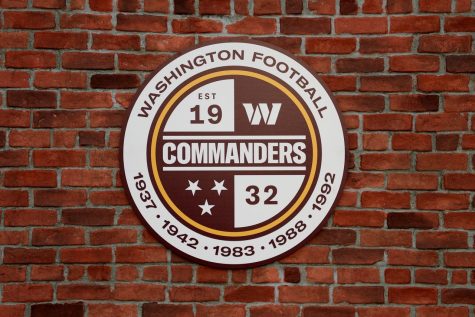 Although the new W logo looks fairly similar to the Washington Football Team logo, it features the Commander's new branding. This fresh start for Washington is a step in the right direction, hopefully this new name brings some good luck with it.
    The new uniforms also feature the new branding, shifting away from previous uniforms. Washington has placed its new name across the chest of the uniforms. The new uniform set includes one black jersey, one white jersey, and one burgundy jersey. The Commanders are keeping the same team colors as the past.
Washington has changed all social media platform handles to be relevant to the new name, as well as their website. The Commanders stated on Twitter, "We are the Washington Commanders #TakeCommand."
Welcome to Washington, Commanders!