Rihanna Has Babies *On The Brain*
  Singer and fashion mogul Rihanna is pregnant with her first child! The pregnant celebrity proudly debuted her baby bump while out in New York City over the weekend with her boyfriend A$AP Rocky. 
   During her time in the public eye, Rihanna has earned many titles. She's an influential singer of the 2010s, actress, creator of the cosmetics and lingerie brand Fenty, billionaire and national hero to those in Barbados. She's now adding another title to her list: mother. 
   It appears the star has been hiding her growing belly for months under oversized jackets and baggy clothes. Captured by celebrity photographer Miles Diggs, known as Diggzy, Rihanna revealed her pregnancy during a stroll in Harlem, Rocky's hometown, over the weekend. Rihanna wore a long pink jacket kept closed by just one button and a pair of loosely fitted ripped jeans. The look was completed with a long necklace, which embellished her bump with jewels. Rocky is pictured pairing leather pants with a white sweater and blue jacket. 
   The cutest parents to be, Rocky and Rihanna, could not be more excited for the baby. When asked whether he was ready to be a father one day in an interview with GQ in May 2021, Rocky said he thinks he would make an "incredible, remarkably, overall amazing dad. I would have a very fly child," he said, "very."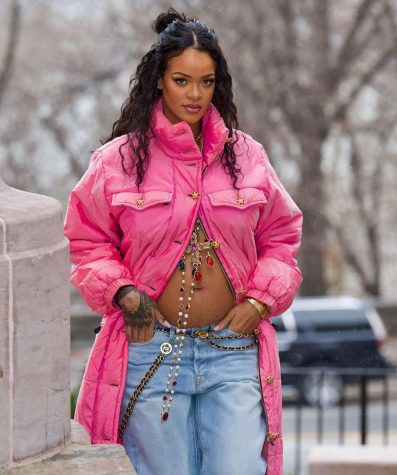 Rihanna told British Vogue in May 2020 that she would have a child on her own if she had to. "The only thing that matters is happiness — that's the only healthy relationship between a parent and a child. That's the only thing that can raise a child truly, is love" she said. 
   The internet is understandably abuzz with the news of the pregnancy but fans can only assume that we will now for sure never get new music from the singer…considering she hasn't released new music since 2016! But us fans can't wait to see her as a mother!