Islamic State Leader Killed In Overnight U.S. Raid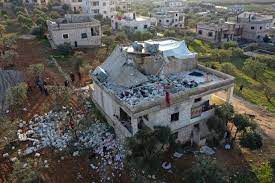 The leader of the Islamic State group ISIS was killed Thursday, after blowing himself up along with members of his family during an overnight raid carried out by U.S. special operations forces in northwestern Syria, President Joe Biden reported. The raid attacked a two-story residential building on the outskirts of the town of Atmeh, which is in northern Idlib Province and is close to the border with Turkey.
  This was the biggest raid in the country since the 2019 raid that killed the last ISIS leader Abu Bakr al-Baghdadi. Qurayshi took over the terrorist group just days after Baghdadi's death was confirmed. The mission was conducted by the U.S. Central Command which controls military operations and activities in the middle east. 
   The raid targeted Abu Ibrahim al-Hashimi al-Qurayshi, who took over as head of the militant group on Oct. 31, 2019. Biden reported on the cause of death commenting that al-Qurayshi died as al-Baghdadi did, by a suicide bomb that killed himself and members of his family, including women and children. In addition to himself and his family there were 13 civilian casualties. Four women and six children were killed in clashes, two people were injured and the building was partially destroyed. "Thanks to the bravery of our troops this horrible terrorist leader is no more." Biden also tweeted, "last night's operation is a testament to America's reach and capability to take out terrorist threats — no matter where they try to hide in the world. I am determined to protect the American people from terrorist threats, and I will take decisive action to protect this country." He stated that al-Qurayshi had been responsible for the person strike and the genocide againts the Yazidi people in Iraq back in 2014.
   Senior administrators were aware months ago that Qurayashi was living on the compound, they were also aware that Qurayashi had surrounded himself with his wife and children which factored into the decision to use special forces instead of using an airstrike. About 50 U.S. special operation forces landed in helicopters and attacked an enemy-area in Syria. When the US forces arrived, they announced their presence and asked those inside to exit the building. They also asked those in the residential area to stay away. Continuous gunshots and explosions were heard. Biden said he had ordered U.S. forces to "take every precaution available to minimize civilian casualties." Pentagon press secretary, John Kirby, said U.S. forces were able to evacuate 10 people from the building: a man, a woman and four children from the first floor and four children from the second floor. CNN writes, "Families with no connection to ISIS lived on the first floor, apparently without knowledge of the terrorist two stories above them." Qurayshi lived on the third floor with his family.  He said when al-Qurayshi set off the bomb, he also killed his wife and two children. Kirby said that U.S. officials were conducting an assessment to determine whether American action resulted in any civilian deaths.   
     After the explosion, Qurayshi's body had been found on the ground after being thrown out of the building by his own detonation of a bomb. U.S. forces took fingerprints and DNA, which confirmed al-Qurayshi's death. According to the Washington Post this mission was supposed to be a raid to capture Qurayshi. Biden, along with Vice President Kamala Harris and senior national security aides, monitored a live feed of the operation from the White House Situation Room. The operation marked a military success for the United States at an important time after setbacks elsewhere, including the chaotic Afghanistan withdrawal which had led allies and opponents to conclude U.S. power globally was weakening.
   This area has a large number of Hay'at Tahrir al-Sham (HTS) forces that were formerly affiliated to al Qaeda. Witnesses recalled seeing drone strikes and HTS forces preventing people from entering the area. 
   "The mission was successful," Pentagon press secretary John Kirby said in a brief statement. "There were no U.S. casualties." Kirby also warned that ISIS is still a threat and that nobody is taking a victory lap. 
   After the raid U.S. Special Forces seized cell phones and hard drives from the site in hopes that it may help them in future counterterrorism operations. Kirby also commented saying that it is common for U.S. troops to do this.