Tragedy in Baltimore
   On January 24, the Baltimore City Fire Department was called for a two-alarm fire at a vacant row home. The building partially collapsed, trapping four firefighters, three
of them died–Lt. Paul Butrim, 37, Firefighter/Paramedic Kelsey Sadler, 33 and Firefighter/Paramedic Kenny Lacayo, 30. 
   Lacayo worked with the department for seven years, was a Wheaton Volunteer Rescue Squad member in Montgomery County and graduated from Wheaton High School. Butrim had been with the department for more than 16 years. He started in 2005 as a firefighter and paramedic. Sadler had been with the department for 15 years. Firefighter John McMaster was hospitalized and was  released from Shock Trauma. A funeral service was held on February 2 for Butrim, Sadler and Lacayo.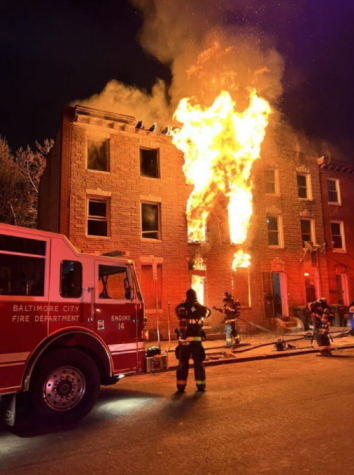 "From this moment, we will honor those we lost today, for their bravery, their courage, their love for helping others, and the respect they had for the Baltimore City Fire Department," said Baltimore City Fire Chief Niles Ford.  
   Baltimore Mayor Brandon Scott said a few words regarding the three fallen firefighters, "Today, Baltimore has lost three of the bravest among us who made the the ultimate sacrifice for our city. This is a gut-wrenching tragedy for our city, for our fire department and most importantly for the families of our firefighters." 
   The cause of the fire remains under investigation. Gov. Larry Hogan has offered a $100,000 reward for anyone with information regarding the Baltimore fire and who may have caused it.
   "It really was tragic, terrible – the worst thing that we've had happen since I was governor," Hogan said to Fox News Digital during an interview at the annual National Governors Association Winter Meeting in Washington, D.C. 
   A gofundme page was made for the families to pay funeral, medical and other expenses resulting from the tragic event.