How old is Damascus High School?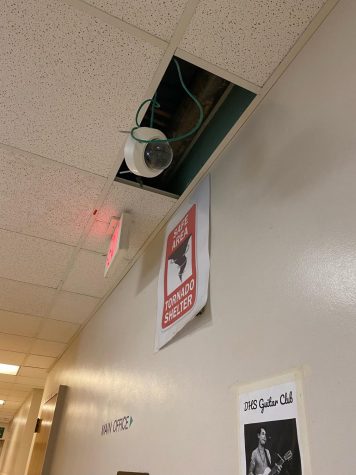 So, how old is Damascus High School school really? The town of Damascus was founded in 1816 by Edward Hughes who laid out the town. Our school was built in 1950 and renovated in 1978. That's really old! A lot of us students think that our school is just old, but never really realized the history behind it. 
   It feels like there are maintenance workers around school fixing different things almost every week, but it never seems to be noticeable. Just a few weeks ago, we had a pipe freeze and burst, what's next? These past few weeks coming into school, have you noticed vans parked in the most random places outside school? What are they always having to fix?
   It must be annoying for the staff whose classrooms are near the areas where repairs are going on. Mrs. Mayhew's classroom where she teaches horticulture is near the pipe that burst a few weeks ago. Luckily, nothing was ruined in her classroom. Our school building has had other issues by the tech hallway. There isn't even a ceiling!
   "There is a plan for renovation, not just in the tech hallway but throughout the whole school, principal Kevin Yates said. "We are waiting on the Board of Education to announce what kind of renovations would be made to the building but they are for sure planning on getting a new field and stadium in 2024."
   Even though most of the students currently going to Damascus will be alumni by then, we will have to wait and see what kind of renovations the Board of Education has planned for our school in 2024.