St. Peters Cinderella Run Comes to An End
    Number eight ranked University of North Carolina, Chapel Hill beat the St. Peter's Peacocks on March 27, with a score of 69-49, during the Elite Eight. The Peacocks defied all odds early on in the March Madness tournament, by beating the highly ranked Kentucky Wildcats. Ever since then, the rest has been history.
    On March 17, the first game of the tournament for both Kentucky and St. Peters was played. Kentucky fans from all over the world were anticipating the Wildcats to defeat the Peacocks, due to the team having some of the highest odds to win the championship. Through the lengthy game the Wildcats had choked at the end and allowed the Peacocks to win the game 85-79. This was the greatest upset in March Madness history since UMBC beat Virginia in 2018. St. Peters had shocked the world, with having barely any ranked players out of high school on their team, this was the start of their Cinderella run that will be a story told for decades to come.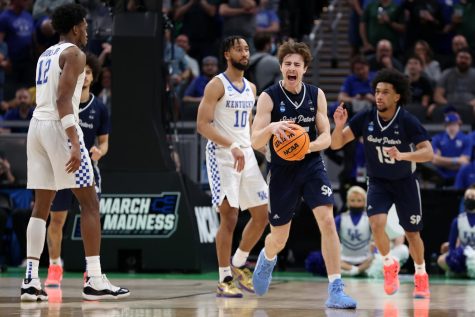 The next game on their schedule was against Murray State, who had beat San Francisco in the round before. March Madness viewers betted against the Peacocks yet again, blaming their win versus Kentucky "pure luck." The newfound star players on St. Peters, such as Doug Edert, started getting publicity on social media outlets. This gathered the attention of Gen Z, as they started tuning into the tournament to watch the team that defied all odds. The Peacocks beat Murray State 70-60 in the second round of March Madness. 
   As the Peacocks worked their way through the tournament, their next competitor was a tough Purdue team. As the Sweet Sixteen round of the tournament kicked off. The Peacocks were expected to lose, yet again. As the Purdue Boilermakers made tough competition for the Peacocks, their story wasn't done just yet. The Peacocks defeated the Boilermakers 67-64, star player Doug Edert jumped on the table with the sports reporters, hyping up the crowd implying that they were not finished yet.
     The Peacocks went from having 0.1% odds of winning the championship, to making it to the Elite Eight portion of the tournament. They faced the tough UNC Tarheels and were expected to lose, yet again. As the tough game was battled out on the court, the Peacocks fell extremely behind, as soon as it hit halftime it was presumed that this was the end of St. Peter's run. The Peacocks succumbed to the Tarheels 69-49, which ended their run in the tournament. This disappointed many fans from across the country. Every March Madness viewer gathered around the TV every time St. Peters played to see if they could actually defy the 0.1% odds. Although the Peacocks may have lost, they are not done yet and are already preparing for next season.