NFL Quarterback Dwayne Haskins Dies At 24
    Beloved son, husband, and NFL quarterback Dwayne Haskins died early Saturday morning after he was struck by a dump truck while crossing a South Florida highway. Haskins was 24 years old. 
    Florida Highway Patrol spokesperson Lt. Indiana Miranda stated, "[Haskins] was attempting to cross the westbound lanes of Interstate 595 when there was oncoming traffic." Haskins was pronounced dead at the scene. The accident caused the highway to shut down for an extended period of time and the situation is currently being investigated as an "open traffic homicide."
    Haskins was in South Florida for pre-season training with his fellow Pittsburgh Steelers teammates. Steelers head coach Mike Tomlin expressed his condolences. "I am devastated and at a loss for words with the unfortunate passing of Dwayne Haskins," Tomlin said. "He quickly became part of our Steelers family upon his arrival in Pittsburgh and was one of our hardest workers, both on the field and in our community. Dwayne was a great teammate, but even more so a tremendous friend to so many. I am truly heartbroken. Our thoughts and prayers are with his wife, Kalabrya, and his entire family during this difficult time."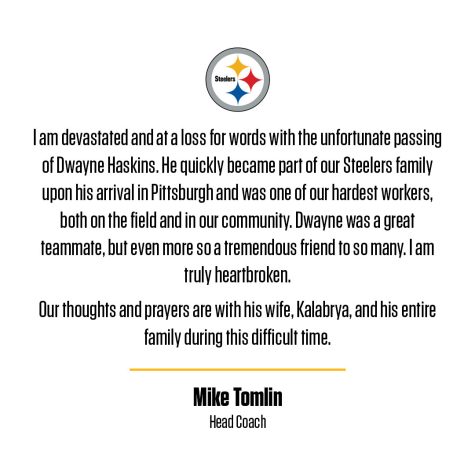 His Steelers teammates took to Twitter to express their gratitude towards Haskins and the lasting impact he had on their team. "The world lost a great person today. When Dwayne first walked into the locker room I could tell he was an upbeat guy. He was always making people smile, never taking life for granted. His impact on me will last a forever," TJ Watt, Steelers linebacker Tweeted. 
    Haskins played collegiate football at Ohio State University and was a star player. He was drafted 15th overall in the 2019 NFL Entry Draft by the at-the-time, Washington Redskins. 
    The Pittsburgh Penguins held a moment of silence in honor of Haskins before their Saturday game against the Washington Capitals.
Haskins has local ties, as he attended and played football at the Bullis School in Potomac.