Amid Turkish Objections, Finland and Sweden Apply to Join NATO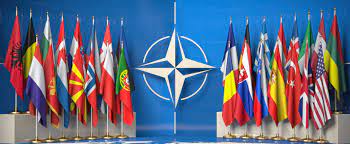 The North Atlantic Treaty Organization has formally accepted Sweden and Finland's applications, breaking decades of neutrality and signaling a pivot in Europe's security situation. In a ceremony at NATO's Brussels headquarters, the two nations' ambassadors to NATO — Klaus Korhonen and Axel Wernhoff — submitted their applications to Secretary-General Jens Stoltenberg.
   "I warmly welcome requests by Finland and Sweden to join NATO. You are our closest partners, and your membership in NATO will increase our shared security" Stoltenberg said. NATO is a military alliance among the US, Canada, and more than two dozen European countries that have agreed to defend any alliance member that is attacked. 
   In late February, Sweden and Finland joined following Russia's invasion of Ukraine, an unaffiliated country. Sweden and Finland were non-aligned throughout the Cold War and beyond. Finland borders Russia, while Sweden borders Finland. This would substantially increase NATO's eastern borders, causing Russia's president and officials to complain about NATO's eastward expansion and use it as a pretext for invading Ukraine. Finland and Sweden have also repeatedly been threatened with consequences by Russia if they join NATO.
   In a surprise reversal, Russian officials this week began downplaying the significance of the two nations joining NATO with Putin claiming that Russia would have "no problem with these states" joining the bloc. According to Russian Foreign Minister Sergey Lavrov Finland and Sweden had already been "participating in NATO military exercises for many years."
   However in more recent news, Turkey's president announced he wants to block Sweden's and Finland's bids to become NATO members, complicating a major shift in European geopolitics prompted by Russia's invasion of Ukraine. Turkish President Recep Erdogan said, "We will continue our policy in a determined way. We have told allies that we will say no to Finland and Sweden's NATO membership." Members of NATO have the power to veto any new countries seeking to join. In order to enlarge NATO an unanimous agreement from all current members is required. 
   Erdogan has hinted he would consider concessions to drop his objection to Finland and Sweden joining the alliance. Turkey has heavily criticized the West for its support for Kurdish militants in the battle against ISIS, which is considered terrorism by Turkey. The Turkish government has demanded the extradition of members of such groups from Finland and Sweden as well as lifting the arms embargoes imposed on those countries. Turkey claims they want to block the new alliances simply because it poses a threat of national security for Turkey. 
   Finland's leader said the country was "open to discussing all the concerns Turkey may have concerning our membership in an open and constructive manner." Both the White House and NATO have expressed confidence that Finland and Sweden will be welcomed into the alliance in a timely fashion although it's likely to take weeks for the alliance to be formalized.