Hate Crimes On The Rise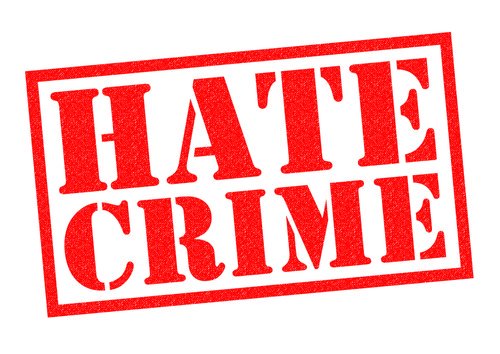 The mass shooting in Buffalo on May 14 caused experts to analyze the number of hate crimes in 2022. The Buffalo shooting was the deadliest racially-motivated mass shooting of the year, killing 10 people. 
   The authorities are still investigating the incident in Buffalo, and from what they do know and have shared with the public, this was a hate crime targeting the African-American community. The recent investigation revealed that the shooting was planned months prior to when the shooting actually occurred. The 18-year-old shooter was previously watched by the police after making comments that his school was concerned about. President Biden and First Lady Jill Biden visited Buffalo on May 17 to meet with the victims' families. In addition, on May 17, while he was in Buffalo the President condemned white supremacy.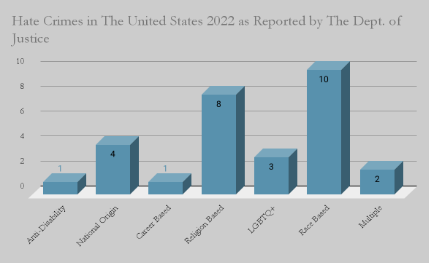 Since the beginning of 2022 the Dept. of Justice has issued news reports on hate crimes occurring in the U.S. Reports about 29 hate crimes were released by the Dept. of Justice. Many more crimes occur than are reported by the Justice Dept., however this data reflects overall incidents. There are far more race and religion based attacks than any other type of mass shootings. Hate crimes are on a rise. There have been hate crimes this year than in years passed.
   Hate crimes based on people's national origin are on the rise. More hate crimes have been targeting people from Asia or from Asian descent. At the beginning of the COVID-19 pandemic people were blaming China for the virus and calling it "the China virus," which sparked the beginning of more anti-Asian hate crimes. 
   The one career-based attack happened in January when a Neo-Nazi group created a plot to target journalists and advocates who were working to expose anti-Semitism. 
   There have been multiple attacks based on religion. In one instance a person sent a threatening email to an elected official calling them a "radical muslim." Anti-Semitism has reached a new high in 2021 and 2022, especially in New York and New York City. Luckily, most of the attacks have not resulted in  casualties. One of the most violent anti-semitic attacks occurred in 2018 in Pittsburgh when a gunman entered the Tree of Life Synagogue and started shooting, resulting in 11 casualties.
   There have also been more attacks on people belonging to the LGBTQ+ community this year. A man in New York during the month of February mailed threatening letters to LGBTQ+ affiliated individuals. Another man in California was charged with threatening Mirriam and Webster inc. based on LGBTQ+ hate.