Hailey Bieber Gets Lip Service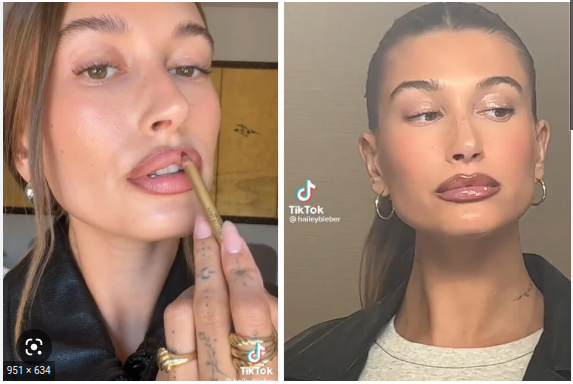 Hailey Bieber is receiving backlash after sharing a "brownie glazed" lip combination on social media. In August, Bieber posted her most recent lip combo on TikTok with the caption, "The lip combo I'm feeling for fall." She posted a second TikTok captioned, "Ready for all the fall things, including brownie glazed lips."
   Bieber created "her lip combo using a brown lip liner to outline her lips and putting clear lip gloss over top," Pagesix.com said. "While she didn't claim to have invented the effect, she also didn't mention the fact that women of color have been rocking the same look for decades." Some fans argue that since her mom is Latina, she shouldn't be getting hate. 
   According to Theface.com, dark lip liner was popularized by Latin American women. Fans are upset that Bieber is not only influencing the wrong group of people, but also renaming the trend. 
   A TikTok commenter wrote, "My mom, tia's, and primas have been rocking that look since the '90s." 
   Another one wrote, "Brownie glazed lips? As a Latina, I am used to it being referred to as 'tomar de la Olla de frijol' well, she is bringing back something that never left."
   "Old School POC lip combo," commented another TikToker. "Been doing it since 90's."
   Some argue that Bieber never claimed to invent the lip combo. TikTok user @addison024_, made a video responding to Bieber's "new" lip complaining she gets called "ghetto" when she does it, but when a white girl does it, she gets praised.
   "You know makeup is super like light-hearted and fun, but when you have a past with being very problematic publicly and racist," Another TikTok user @zzhilton replied while showing screenshots from 2012-2013 of Bieber's Twitter that read, "It doesn't sit the right way when you try to pass on a brown lip liner as your own idea. Considering how long women of color had to fight for brands to stop naming darker shades after food."
   Bieber has not yet responded to the backlash.