Virginia Students Protest New Transgender Policy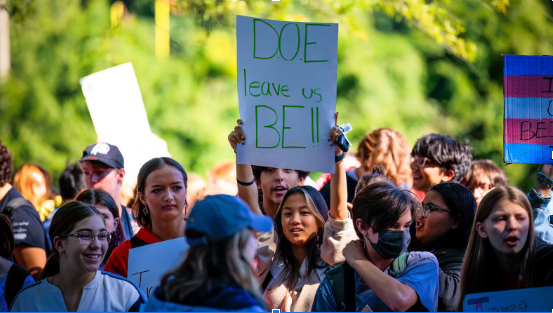 Students across Virginia participated in a state-wide school walk out on Tuesday, Sept. 27, protesting against the new transgender policy passed by Governor Youngkin. The policy passed by Youngkin will now enforce rules that require parental notification if a student wishes to change his/her/their name, pronouns, nickname and so forth.
   Parents will now be made aware of a student's sexual identity. If staff members were to receive that information, teachers must refer to students by their assigned gender pronouns and birth name, and transgender students will be forced to use school restrooms that correspond with their assigned sex at birth. Backlash and concern have been shown by Virginia students about these changes, placing a spotlight on Virginians. 
   The changes in Virginia sparked conversation and comments, including our SGA president and senior Yeicy Ramirez.
   "I feel like this is a slap in the face," Ramirez said. "This policy is selfish because [Younkin] knows this will help his campaign, this will get him votes. [Students'] frustration is valid. We see you. You are not alone."
   Youngkin has defended the backlash his policies have been receiving, emphasizing the importance of parent involvement and criticizing the past administration's policies on LGBTQ students.
   "The previous administration had had a policy that excluded parents and in fact, particularly didn't require the involvement of parents. And let's be clear, parents have this right and children don't belong to the state, they belong to families," Youngkin explained.
   Allegedly, the board of education was not informed about the new policies, causing confusion.
   In an interview with ABC 13 news, Senator Kaine of Virginia gave his opinion.
   "When you are going to do something as an educational policy and you don't even tell your state board of education — and remember this is a board of education where the majority of the appointees are Youngkin appointees — It leads to a suspicion that this isn't about education, this is about politics," Kaine said.
   Understanding what impact these changes will have on LGBTQ+ and transgender students in Virginia is complex, but for Gay-Straight Alliance (GSA) Club Sponsor and resource counselor Mrs. Oswald, it is crystal clear.
   "So many mental health issues [exist] with children that are part of the LGBTQ+ community, and these policies that he is enacting are just going to hurt their mental health because they can't be who they really are," Oswald said.
   The policies passed by Youngkin strongly enforce and will possibly lead to LGBTQ+ and transgender students being "outed" to their parents regardless of whether the student is ready to share this personal information with them.
   Oswald is well aware that other states and other school counties have their eyes on Virginia, when asked how she would feel if similar policies were passed by MCPS she was conflicted.
   "It would be a struggle for me morally [if similar policies were passed," Oswald said. "You're in the middle of the storm. Storms always go away, eventually. I always have to believe that the good will overcome. You have to ride out the storm."