Grey's Anatomy Without Meredith Grey
Sophia Cooper, Associate Editor-in-Chief/ News Editor
November 21, 2022
    Ellen Pompeo, the actress who played Meredith Grey for 19 seasons, took to social media to announce her exit from the hit show "Grey's Anatomy."  She was met with outpouring comments of love and support along with ones of sadness. 
   Fans who are asked to recall one thing about "Grey's Anatomy" are very likely to mention Meredith Grey. Her last name is not only in the name of the fictional hospital where she works, but it is in the title of the show. The character has carried the show since season one when she came to Seattle Grace Hospital, which would later be renamed to Grey Sloan Memorial, as an intern. Since then, we have seen disasters, character deaths, tragedies and a lot of drama. 
   The longest running primetime show is currently in the middle of its 19th season, with its fall finale airing a couple of weeks ago and is expected to pick up with the second half of the season in February 2023. 
   The fall finale featured Meredith with her children Zola, Bailey and Ellis as well as sister Maggie and her husband Winston plus sister-in-law Amelia watching as firefighters attempt to put out a fire in the Grey household, which has been part of the show the beginning. Meredith will make her exit from the show by moving to Boston with her children. 
   By the end of the 16th season Meredith Grey was the only intern from the first season still on the show. After Pompeo's exit from, the only remaining characters from season one will be Dr. Miranda Bailey, played by Chandra Wilson and Dr. Richard Webber, played by James Pickens Jr. 
   The extremely popular show has won too many awards to name, with Pompeo herself winning five awards for the show. Many fans are wondering how the show will continue without its star.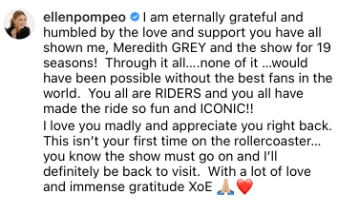 In her farewell message, Pompeo thanked "Grey's Anatomy" fans and supporters and assured that this was not goodbye.
   "I'll definitely be back to visit," she wrote.