First Montgomery County Cheerleading Team Wins State Title
   On Nov. 12, the varsity cheerleading team put on "The Greatest Show" and won first place at the 2022 Maryland 2A Cheerleading State Championship, making history as the first team from a Montgomery County public school to win the competition. This was the moment the cheerleaders, coaches, parents and the community had been waiting for all year. 
   The team is coached by physical education teacher Lindsay Burns, who has been leading The First Ladies for 13 years. Burns, an alumna, was a cheerleader in high school and knows almost everything about this sport and absolutely adores it. 
   Burns is beyond proud of her team for performing a zero-deduction routine and admits that she couldn't have accomplished this history-making milestone without the work and dedication from assistant coaches Laura Nicols and Kelli Gonchar.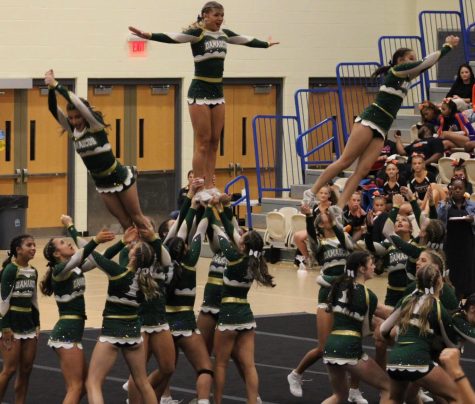 Everyone on the team is elated by their accomplishment.
   "These past 4 years on Damascus cheer have been one of the most rewarding experiences of my life. Damascus cheer is the definition of hard work, dedication, pain, sisterhood and performance at its highest levels," senior captain Gracie Emerick said. "I am honored to have been chosen captain this year alongside [senior] Anna [Baisden]to lead our team through it all this season. Winning is an elating feeling. Especially, knowing that I accomplished this title and made history alongside my teammates and coaches makes it even sweeter, a victory to savor forever. LONG LIVE THE STATE CHAMPS!" 
   Emerick is not the only one on the team basking in the victory.
   "Damascus cheer is an extremely unique experience that I wish everyone could have the privilege to be a part of. This program has shaped me into the person I am and has taught me so many skills beyond cheerleading," Baisden said. "It's been an honor to be led by so many wonderful coaches and captains and then to lead my senior year. Being a state champion is an incredible feeling, especially since we have worked our entire high school cheer career to achieve this title. The most difficult thing about our season was to push the limits of our routine. We're constantly pushing to add difficulty to our routine even when it is as hard as we could imagine."
Even though the captains are seniors, they're not the only ones with a reason to celebrate.
   "Winning states was a great experience," freshman Samantha Hennelly said. "As a freshman, I was nervous. It was my first time competing at states. I didn't want to mess up and lose it for my team. The moment we hit and won, I was really glad we were able to do it together as a team. Being the first team in Montgomery County to win this competition before, I was proud to be a part of it as a freshman."