Teddy Bear Backlash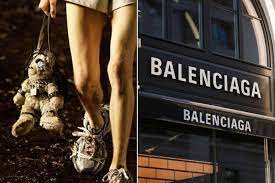 The Balenciaga luxury fashion house has been receiving backlash since the launch of their recent 2022 "Gift Collection" campaign in support of the Spring/Summer 2023 line that debuted this fall at Paris Fashion Week.
   Social media users instantly began to attack the brand, accusing them of sexualizing children in the holiday ad, which has pictures of children holding bears dressed in leather straps and fishnet tops. Another ad they produced was "Office" themed and involved a reference to a Supreme Court case regarding child pornography. 
  Kim Kardashian, an ambassador for Balenciaga, broke the silence on the issue after fans urged her to denounce the brand. She says as a mother she was "shaken by the disturbing images" the ads showed. She then explained that she waited to speak out until she had spoken to the Balenciaga team directly. 
  "I have been quiet for the past few days, not because I haven't been disgusted and outraged by the recent Balenciaga campaigns, but because I wanted an opportunity to speak to their team to understand for myself how this could have happened, as a mother of four, I have been shaken by the disturbing images," Kardashian said in a Twitter post and on her Instagram Story. "The safety of children must be held with the highest regard and any attempts to normalize child abuse of any kind should have no place in our society – period." 
   She continued to say she was confident that the Balenciaga company understands the "seriousness of the issue." She said that she is now re-evaluating her relationship with Balenciaga. 
    Unhappy people are also calling out other celebrities such as Bella Hadid for not dropping the brand.