Akumal Again??
   Akumal, Mexico is a great place to vacation for family and friends. My recent trip was a little different from the one I took last year.
   Ever since COVID-19, many people have not had an interest in traveling internationally. Now that the pandemic is not at its height and infection rates have lowered, people are branching out and doing things they did before the pandemic. The 3-and-a-half-hour flights to Cancun and back home on Southwest Airlines were full.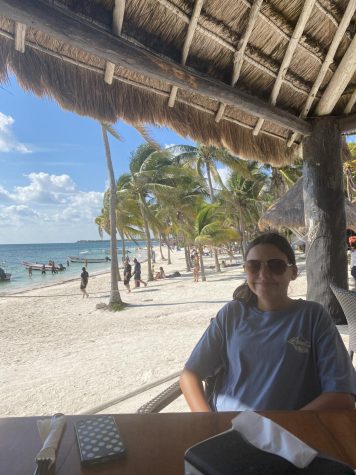 Akumal is a hidden, small gem of a town. In years past it was a quiet little town, but over the last year its popularity has grown. The town was packed with families all the way down the beach. There are many delicious restaurants nearby including an Italian restaurant, an American place, a cafe and bakery and a fancy place to dine. 
   In Akumal, it is more convenient to rent a golf cart than to drive a car. Using a golf cart allows you to load all your beach items on it and drive wherever you want. 
   I was there from Dec. 1-12 and each day was filled with fun celebrating the Saint of Guadalupe. Outside the town, many people were gathered, dressed up, played music, sang and danced for this special time of year.
    Lots of construction is in progress and soon the small town will transform into a tourist attraction. Unfortunately, as a result of the construction many of the trees on the jungle side of the town have been torn down in order to make space for new condos and hotels.