Something New
   My name is Samantha McIlvaine, a senior whose main sport was soccer. . . until I discovered track.
   This year I decided to try out for winter track in order to stay in shape. Little did I know that my motive for running was going to change drastically. I joined the team and immediately loved everything about it. Between the people, the coaches and the events, I could not imagine my life without track.
   I initially started just for fun until I realized that I could actually keep up with the people who had been running track for years. I started placing in the top 10 in every event that I ran. Although the track meets were several hours long, I was never bored. My greatest accomplishment was placing 4th out of 91 competitors at the Liberty meet 4 hours away.
   There are so many amazing opportunities within the sport because there are different events for everyone to participate. This is my first year, and my coaches are already looking for scholarships for me because they believe I can make it in college.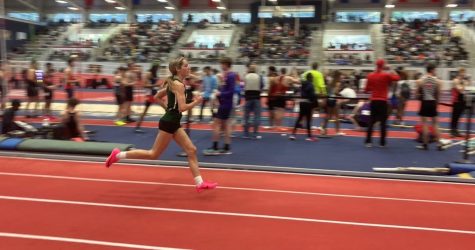 I would love to run track in college because I feel as though it's taken over my love for soccer. In track, you can participate in any event and be good enough to get scholarships in multiple events. In soccer, however, if you want to play a certain position you don't always get that. It would be a dream of mine to attend any college in Florida and run track. 
I wrote this story because I wanted to show that no one should limit themselves. Do everything you can because life is short. High school is even shorter, and opportunities are everywhere.