Three Mass Shootings in 44 hours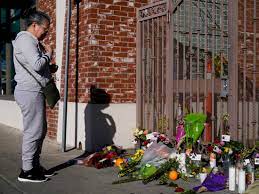 In January alone, the U.S. has suffered 39 mass shootings.
The state of California is in shock due to three different mass shootings in 44 hours. On Jan. 24, there was a shooting that left seven dead in Half Moon Bay, Calif.
Police and investigators are looking into the possible motive of a 66-year-old man involved in the Half Moon Bay shooting, leaving the Asian American community in devastation. Suspect Chunli Zhao was taken into custody about two hours after the first call to police. Zhao was arrested at a Sheriff's substation with a handgun in his vehicle.
Another case related to the Asian American community is one where a 72-year-old man named Huu Can Tran gunned down 20 people, killing 11 during a Lunar New Year weekend celebration in Monterey, Calif. The motive for this crime remain a mystery.
All these mass shootings are leaving the residents of California in shock and asking for action.
President Biden has spoken up, calling on Congress to "act quickly" and ban assault weapons.
"We know the scourge of gun violence across America requires stronger action," Biden said.
Half Moon Bay Vice Mayor Joaquin Jimenez also urged residents to seek mental health counseling.
"This is something that we get to watch on the news. Never think that it's gonna come and hit home," Jimenez said. "Today, we are the news. Our community has been affected."