What is the Problem With Guns in the United States?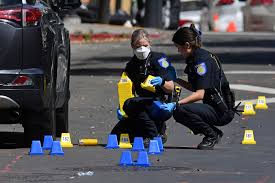 Sophia Cooper , Associate Editor in Chief/ News Editor
February 7, 2023
Within 44 hours, the United States specifically the state of California which has some of the strictest gun laws in the nation, experienced the tragedy of three mass shootings. Very few or none of the other countries in the world have had to endure this type of gun violence at this level. Something needs to be done.
   Let's take a look at the numbers:
One  month

39 shootings

44 hours

Three mass shootings

19 dead

Millions of people grieving

One nation 
   This is not normal, at the start of the new year already many people are dead due to gun violence and communities are grieving the loss of their loved ones, friends and neighbors. After the events that have taken place within these past 44 hours, many California residents are demanding action be taken to prevent future acts of hate.
   President Joe Biden has made a statement asking Congress to "act quickly" and ban assault weapons, the President also ordered the White House flags to be lowered in honor of the victims. 
   On Jan. 24, seven people were killed in Half Moon Bay, Calif. after an employee of a farm acted in what authorities are calling "workplace violence." The suspect, 66 year-old Chunli Zhao, an employee of the farm, was apprehended and taken into custody. According to the District Attorney Steve Wagstaffe, Zhao will be arraigned Wednesday although charges have not yet been filed. 
   Two days prior in Monterey Park,  Calif. 72-year-old Huu Can Tran shot and killed 11 people and injured nine after shooting people in the ballroom dance studio he used to dance at and where he met his ex-wife. After the first shooting he attempted to do the same thing at another studio but was stopped by the people there. The suspect then fled the scene but later shot himself after being pulled over by the police. 
   Although California has one of the strictest gun laws in the nation, something else needs to be done to stop this. There are very few other countries that have as much of a problem with this as the United States does.