Lisa Loring, Original Wednesday Addams Actress, Dies at 64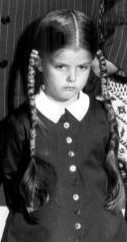 Sophia Cooper , Associate Editor-in-Chief/ News Editor
February 14, 2023
  Lisa Loring who rose to fame at a young age after being cast as Wednesday Addams in "The Addams Family " sitcom died on Jan. 28, at 64 after being removed from life support. The actress previously suffered a stroke.
   Born to Navy parents, Loring was born in the Marshall Islands and later grew up in Hawaii and Los Angeles. After beginning her modeling career at the age of three, Loring at the age of six was cast as Wednesday Addams in the popular "The Addams Family" sitcom which was also the first screen adaptation of the popular comic strip. Loring paved the way for the following portrayals of Wednesday Addams by Christina Ricci in the movies and Jenna Ortega in the hit Netflix series "Wednesday". When "The Addams Family" ended in 1966, Loring was cast in the ABC sitcom "The Pruitts of Southampton" and later joined the CBS soap opera "As the World Turns" as Cricket Montgomery from 1980-1983.
   Loring married her childhood sweetheart at the age of 15 and had a daughter, although the couple divorced soon after. Loring then married her second husband in 1981 and the couple had another daughter and divorced in 1983. In 1987 Loring married her third husband and because of difficulties brought on by his career they divorced in 1992. Loring married for the last time in 2003 and although the couple separated in 2008, they officially divorced in 2014. 
   The actress died at a hospital in Burbank after being brought in for the treatment of a "massive stroke" which is believed to have been caused by smoking and high blood pressure. Her death was announced by Laurie Jacobson, a friend of Loring's through a Facebook post. Loring's death was confirmed by Loring's daughter Vanessa Foumberg who in a statement to Variety said, "She went peacefully with both her daughters holding her hands."