Rallying Interest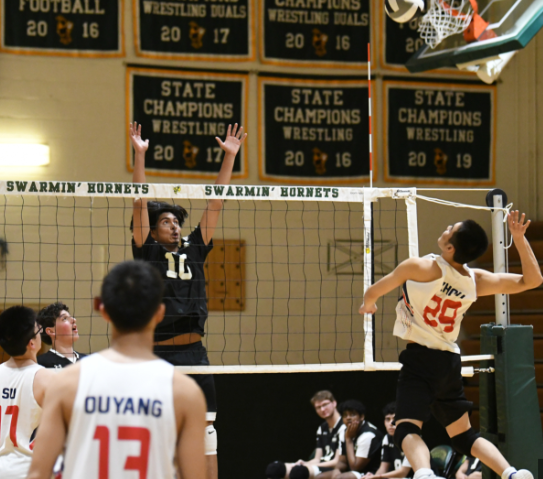 Some of the people reading this have played or currently play a sport. Whether it's basketball, football, soccer, tennis, lacrosse, etc, there's a common theme regarding each one. Practice makes perfect. This is an idiom that applies to almost every aspect of life, not just athletics. However, this is a sports article afterall. 
   Damascus takes its athletic prowess very seriously, with our dynasty football and wrestling programs, state champion cheerleaders, and our up and coming basketball, lacrosse and volleyball teams. 
   Girls' volleyball, that is. The success we've seen from the girls' team hasn't exactly translated to the boys' team. Ideas as to why this may be the case will be discussed in an exclusive interview with last year's setter and captain, junior Sean Spillers.
   MCPS has provided boys' volleyball at the divisional and county levels since 1990. Annually, one team from each of the four divisions (blue, gold, red, and white) is given the "division champion" title. Across 29 seasons, 20 different schools have won a collective 117 division titles. Sherwood has dominated boys' volleyball for nearly the entire 21st century, as they've won 14 titles, the most in county history, with the first one being in 2002.
   Paint Branch won the division title in each of the first six seasons back in the 90s, and in three of those seasons they proceeded to win the county championship. Much like the Chicago Bulls–and your parents–Paint Branch peaked in the 90s and hasn't really seen any success since. Regardless, they were still winners for the vast majority of a decade, a feat that Damascus has yet to even come close to mirroring.
   If it wasn't evident, our boys' volleyball program has never won a division title, and quite frankly has never even approached one. The oldest match logs I could find for boys' volleyball was April of 2013, and even then nobody consistently tracked any of the matches until last season. 
   Last year was the first full spring athletics season since 2019, meaning that all the spring athletics teams saw entirely different rosters. Unfortunately, this return season was winless throughout eleven games.
   "I think it's [because] volleyball just isn't a very popular sport among guys. A lot of the guys that choose to play just do it for [their] college resume," the captain of last year's team claimed. The leader in assists made it evident that simply a lack of interest is what's holding the program back.
   "I personally don't have many ideas to increase the amount of boys interested in playing volleyball.  Many guys are already playing other sports so some who are interested aren't even available to play," Spillers added, making reference to the one sport per season policy for MCPS athletes.
   Last season the boys won three total sets, one each against Whitman, Paint Branch and B-CC. Much like Damascus, their roster consisted of predominantly first year players, except this won't be the case for us this season, as a lot of players are reportedly returning and have improved during the off-season. 
   "I think this year we can definitely compete with those teams and hopefully many [others,]" Spillers said. "Most of us have experience playing now and practiced a lot during the off season, this has helped us greatly improve our skills [compared to] what they were last year."
   The boys' season debut is going to be a tough one, as they face QO at 5:30 on March 21, following that will be the coed team's match at 7:00. We hope to see a more successful season out of the boys' volleyball team this season, and by the looks of it, it's likely.