United They Stand
The Unified Cheerleading Club was something to behold and truly demonstrated school spirit.
   On May 10, the newest addition to the ever-growing list of clubs at our school, the Unified Cheerleading Club, performed in the gym. 
   The team performed with a layer of grace about them, the intention being to demonstrate everything and anything that they had picked up during the course of the school year. They seemed to be having a grand time, even getting the audience involved by leading chants. Each performance warranted an ovation from the crowd, with the majority of individuals genuinely being invested in the performance.
   Every team has its star players, and the Unified Cheerleading Club is no stranger to talent.
   When asked about coaching the team, head coach and special education teacher Emily Prather stated that, in general, there is a great deal of skill involved in cheerleading, as everyone possesses different skill sets. She added that the routines need to appeal to everyone's personalities on the team so that everyone can be included to have one unified, well-oiled "machine" of a team.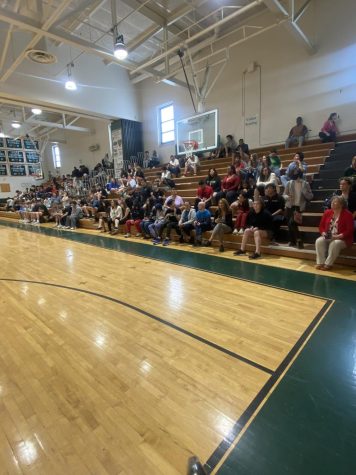 The athletes' favorite part about being on the team is unanimous: the friendships that they made. In fact, these bonds are so special to them that, if given the chance to partake in cheerleading in the future, they would most certainly do it. This is a logical consensus to arrive at, as cheerleading is considered a team sport and as a result one has no choice but to interact with their teammates in order to be successful.   
   The team members are Layla Shepard, Brianna Retherford, Courtney Kisner, Leah Mathews, Xavier David-Vincent, Devon Whitfield, Mercy Madukwe, Aisatu Bangura, Delanie Cranford, Aaron Tran and Kendall Roarke.
   Their grand debut was marked with a generally positive reception, which may foreshadow their reception when they perform for future generations of Hornets and their families.