Honor Your Horses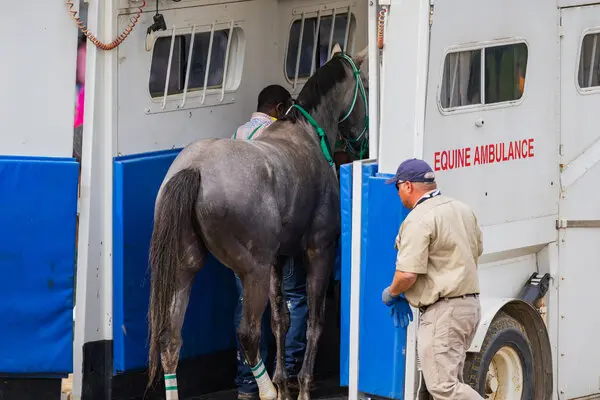 [Warning: The following discusses injury and abuse of animals.] 
   Each May, an average of nearly 15 million people excitedly tune in to watch America's favorite horse race, the Kentucky Derby. The 149th running of the annual Thoroughbred race took place at Churchill Downs, a renowned horse racing complex in Lexington, Ky. on May 6. Three-year-old Thoroughbred Mage, jockey Javier Castellano, and trainer Gustavo Delgado were the Triple Crown victors of this year's event, despite being on the disparaging end of 15-1 odds. Countless hours of practice prepare the horses, jockeys and trainers for various races throughout the year, but how many hours is too many? What methods of training are damaging to those who run the race?
   Horses–animals as a whole– can be overworked just like humans, except they obviously can't communicate discomfort, exhaustion and pain as coherently as we can. Seven horses died within a span of the nine days leading up to the Kentucky Derby, along with an eighth horse being euthanized on May 14 due to an unspecified leg injury. Not enough information has been released to determine whether or not these horses were abused, but it's important to recognize the notorious history of abuse in the horse racing industry.
Usage of Performance Enhancing Drugs (PEDs)
   Medical experts constantly express the heartbreak they experience when encountered with exhausted horses in medical crises due to doping. Dozens of trainers within the last decade have been investigated and charged for feeding their horses Methylphenidate (Ritalin), Caffeine, Morphine and many other drugs to enhance their horses' abilities. Most recently, Forte and his trainer Todd Fletcher were prohibited from participating in this year's Kentucky Derby due to Forte's positive drug test last year. Forte was the favorite to win this year's Derby. In March of 2020, 27 trainers, jockeys and veterinarians faced charges for a horse-doping scheme. Just last year, trainer Jason Servis pled guilty to Federal charges for his involvement in a 2019 horse-doping scandal, and he'll be facing four years of prison along with the indefinite suspension of his horse training license. 
Excessive Workloads
   All eight of those previously mentioned fatalities were written off as "anomalies," a word often used to mask the egregiously excessive physical hardships horses have to face before their tragic and premature deaths. Although all of the deaths may not have been directly caused by abuse, the excessive workloads assigned by their trainers certainly do not help. Only three-year-old horses are allowed to partake in the Derby, which means that their bones aren't even close to being fully developed and are therefore unfit to withstand hours and hours of running 35-45 miles per hour each day. The majority of horses survive their racing careers, but retire with lingering joint and bone injuries that ultimately result in them being euthanized much before their life expectancy of 25-30 years. Previously mentioned former horse trainer, Jason Servis, is infamous for overworking his horses on top of involving himself with PEDs.
   What should be done? Horse racing itself isn't a damaging concept, but the motives to capitalize and monetize are very damaging to these young horses. Millions of people tune into national horse racing, thousands of jobs are produced due to horse racing, so do we create new regulations regarding the safety of horses? Do we decrease the amount of money sports bettors make from it? Do we make bans altogether? It's difficult to know for sure, but changes need to be made so hundreds of toddler-aged horses aren't effectively killed each year.