Hometown Hero Makes it Big in LA
    NFL Rookie running back and Damascus native Jake Funk, a seventh-round draft pick for the Los Angeles Rams, broke through and found his way onto the field in his first game as a pro.
    Funk was introduced to the sport of football by his father, who had played collegiate football at Penn State University. Funk started his career at a young age, playing for the Damascus Cougars, his hometown recreational team. When asked about his youth football team, Funk said, "I started playing for the Damascus Cougars when I was six or seven and just fell in love with it."
    Damascus, undoubtedly one of the biggest football towns in the state of Maryland. "The small town environment is unmatched especially at the high school level," Funk said. The community showed unwavering support for Funk and saw his potential to be a star from day one. "I really appreciated the community support that I had at my time there, then as well as once my time there was over and I moved on." Funk said being part of the community is, "special and something I will cherish."
     Funk attended his hometown school, Damascus High School, which just so happened to have one of the best high school football programs in Maryland. During his junior year at Damascus, the Hornets made it all the way to the Maryland state championship, but lost in a close game. Although the team lost, there was redemption for the Hornets the following year. We made it to the Maryland state championship game again and Funk scored seven touchdowns for the win. "I was able to build a lot of relationships with guys that I grew up with that will last a lifetime." Funk said. "And then on top of that being able to come back from my junior year where we lost in the state championship, then to win it my senior year, that was probably the most memorable thing for me."
   Funk also stood out his senior year when he won the Gatorade Maryland player of the year in 2015, an award given to the best high school player in Maryland every year. Also during his senior year, Funk finished that special season scoring over 50 touchdowns and rushing for over 2,000 yards. He looked unstoppable. Although the numbers attached to his name were impressive and strong, he was only listed as a two-star college recruit. "It was tough coming out of high school even though I had a lot of production. A lot of college coaches didn't see me as a college prospect," he said when addressing his recruiting process. "It allowed me to have a chip on my shoulder and gave me some incentive to go out and prove myself right."
The Hornet Becomes a Terp
    Offers to play at the higher level started to roll through at the end of his junior year in high school and by senior year he had a whopping total of 16 offers. Although they were offers to play at the next level, Funk said that "Most of them were Ivy League schools, Military Academies, Conference U.S.A. schools and very little power 5's." When reflecting on his offers, Funk stated, "I got an offer from Wisconsin to play linebacker there, I was seriously telling my parents I was going to commit to Wisconsin."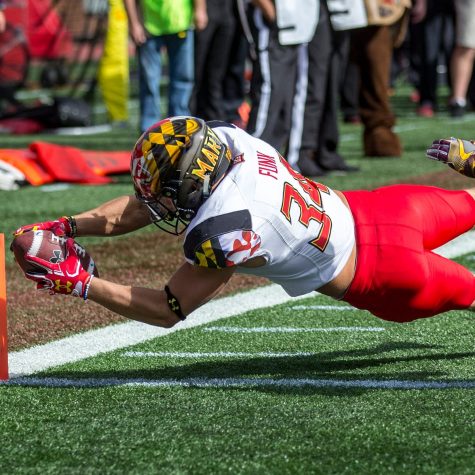 Although it seemed like his decision was already made, Funk was camping with Stanford trying to receive a running back offer. "They had Christian McCaffrey at the time, so I knew that they would be accustomed to having a guy like me playing running back," Funk said. Sadly, the spots at Stanford filled up which left Funk empty handed, having to look for other options. Although he had a high interest in Wisconsin, the university already had three committed linebackers in his graduating class. With all of these hardships, Funk decided to continue his football career at the University of Maryland. In the end, he was glad to be done with this whole ordeal. "I was sick and tired with the recruiting process," he said.
  Funk stated that his offer to play at Maryland was "an opportunity I couldn't pass up." He also thought that Mike Locksley, University of Maryland football head coach, believed that he would be successful. As if the situation couldn't get any better, he talked about how close to home he would be, "If I needed anything no matter what, my parents are just a phone call away," he said. "It just made life a lot easier for me." Funk played every game his freshman and sophomore year, mostly on special teams. Funk started to endure injuries starting in his junior year of college. The injury list just started getting longer, including a fractured hand and a torn ACL.
  Heading into his senior season, Funk played a total of three games before injuring his ACL once again. Funk's surgeon also was the head surgeon for NFL's Baltimore Ravens, presenting Funk with a serious decision, "You can either brace this up and play out the rest of the season. Or if you have any aspirations to play at the next level, this wouldn't pass NFL medical protocol," the surgeon said. Funk took his surgeon's advice and decided to replace his ACL and do double knee surgery. "I had a little bit of an infection a week later from that surgery. I had to be put on IV antibiotics for a month, I lost about 20-25 pounds," Funk said.  "Not a great time in my life"
    All of this adversity didn't stop Funk's determination and willingness to succeed. His fifth season turned out to be his career-best season, leading the Big Ten division in yards per carry average. Funk didn't have much status to his name up until late that season, which ended in no senior bowl  or combine invites. "Nobody knew who I was at all because I was hurt. I played behind four NFL running backs during my time at Maryland," Funk said. Funk didn't seem too worried about not getting noticed to play in the NFL, however he said "[NFL teams] find talent no matter who it is, where you came from, they find you."
California Dreaming
  The NFL Entry Draft is the event every aspiring professional football player dreams of. The NFL draft process, Funk described as "crazy." "Initially you declare for the draft," he said. "Within the next week or two after that, I ended up signing with an agent, who helps you throughout the whole entire process. They have connections to all these NFL general managers and coaches. This agent pays for you to go train somewhere for combine training. After about three weeks I moved down to Hollywood, Florida which is in North Miami and was training down there."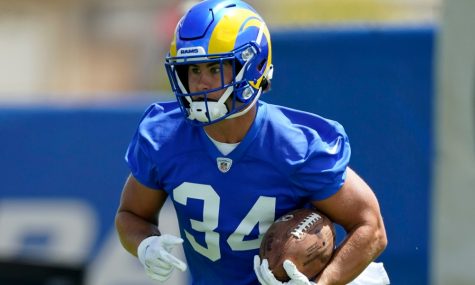 Funk worked mainly on combine drills, which the coaches and general managers look at heavily before making their draft picks. The combine was cancelled this year so instead there were pro days at selected colleges. At Funk's pro day, 24 out of the 32 NFL teams showed up, which pushed him to be at the top of his game. "I did very well at the pro day," he said. "I was very happy with my stuff." After the pro day he had lots of interviews with coaches of many different NFL teams. "Youre talking X and O's, you're talking about the mental side of the game, and they are interviewing you for an hour – hour and a half, you're just going over film," he said. "You're going over the good, the bad, and the ugly. These coaches wanted to know everything. They're going over your background information and stuff that they already know, but they are just trying to see if you lie to them or not."
  The NFL teams that showed the most interest in Funk were the Los Angeles Rams, the Tampa Bay Buccaneers, the Buffalo Bills, the Jacksonville Jaguars and the Los Angeles Chargers. After this, it was draft week for Funk, the moment that most players wait for their entire life. "I wasn't anticipating being drafted the first two days," he said. "I was anticipating being drafted going rounds 4-7."  Because Funk is a running back, most NFL scouts didn't list him high on their draft boards. His family held a draft party at his house on that special day, "Literally it took like 5 hours of me just sitting there watching guys' names get called on the TV."
    "When am I going to get the call? When am I going to get the call?" Funk asked himself the whole day. The call finally came from the Rams' general manager, Les Snead. "They call you. They start going over logistics now that you're on the team," Funk said. 
   Funk was the 233rd overall pick in the seventh-round of the NFL Entry Draft.  Later that day head coach Sean McVay reached out to him and was excited to have Funk on the team. The whole town of Damascus celebrated his monumental moment. Local businesses such as Jimmie Cone started naming products after him. Funk paid homage to the local ice cream shop as shown in a video of him celebrating as Funk exclaimed, "I'M GOING TO JIMMIE CONE."
  Training camp was next for the young running back. The LA Rams' training camp was held in Newport Beach. Funk described this camp as "cutthroat and stressful." His years of hard work finally paid off as he ended up making the final roster, which had him as a running back and special teams player.
  All was going well for Funk, until the sixth week of NFL games. Up until that moment Funk played every game with the Rams, even beating Tom Brady and the Tampa Bay Buccaneers in his third career game, which put the Rams up 3-0 for the season. Unfortunately, during week six Funk sustained a hamstring injury which forced him to be out for the remainder of the season.
  Even though he hadn't had any carries as a running back, he had still been making a significant impact returning kicks and punts for the Rams. Funk even made the first tackle of the season during the season opener versus the Chicago Bears. Funks' perseverance throughout the ups and downs of his playing career made him stand out to a lot of eyes. This is just the beginning of Funk's career, and the town of Damascus is excited to support him every step of the way.