Coaching Change at LSU Sparks Numerous Internal Problems
 The LSU Tigers of the SEC conference announced that Brian Kelly, former coach of Notre Dame football, is taking over as head coach. This coaching change did not go over well with the team, as high school commits and current players are starting to decommit from LSU and enter the transfer portal.
    Ed Orgeron, former infamous head coach of the Tigers who led them to winning the national championship in 2019 with star player Joe Burrow, resigned from his position. Orgeron has coached LSU from midway through the 2016 season all the way until the 2021 season, stepping down from his position this year. Leaving this position vacant, Brian Kelly, who was the head coach at Notre Dame, accepted this position hoping to lead the Tigers to victory. LSU has given Kelly a ten-year contract that will pay him at least $9.5 million per year.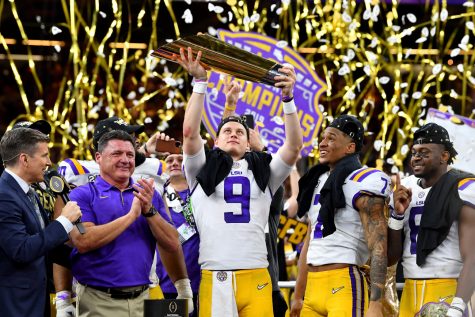 Due to the change in leadership, the team has expressed many concerns. Former starting quarterback at LSU, Max Johnson, is set to transfer away from the school, hoping to enroll in a program with a more stable coaching staff. His brother, Jake Johnson, has also decommitted from LSU after pledging to the Tigers in Apr. and has reentered the recruitment process. The younger Johnson stated on Twitter, "with much prayer and thoughtful consideration, I am de-committing from LSU. I am opening up my recruitment! I plan on early enrollment."
     Another key player for the Tigers, wide receiver Deion Smith, is expected to enter the NCAA transfer portal as well. He was the number one recruit in Mississippi and number nine wide receiver in the nation in the 2021 recruiting class, according to 247 Sports Composite Rankings. Due to his lengthy resume, LSU was ecstatic to have him join their team and he signed his letter of intent in 2020. LSU has a long list of notable football alumni, including former first round picks, Joe Burrow (went first overall in 2020) and Odell Beckham Jr. (went 12th overall in 2014). Upcoming star players decommitting from a school where they have produced stars is to say the least, shocking.
   With now vacant positions on the roster fans are concerned that they will never experience the thrill of winning anymore. On the other hand, some LSU fans are hopeful that the new head coach will be able to lead them to victory again and that LSU recruiters can scope out some talented players to fill the newly opened gaps.