Hornets Honor Hispanic Heritage
   Students and faculty come together to celebrate Hispanic Heritage Month from Sept. 15 to Oct. 15.
   What is now known as Hispanic Heritage Month was originally a week-long celebration that began in 1968. In 1988 the celebration bloomed into a month-long celebration to acknowledge cultural diversity and shared heritage. Likewise, it is a time to acknowledge the contributions, influence and struggles of the Hispanic Community.
   SGA President and senior Yeicy Ramirez takes this opportunity to honor her Salvadoran heritage. Her yearly traditions include eating Pupusas, a traditional food, and wearing clothing that represents her culture. Most importantly, she utilizes this month to "appreciate the hard work and struggles of [her] parents to provide for their kids by coming to this country."
   Ramirez's parents immigrated to the United States in 2000 and 2002 respectively, and hearing similar stories from her peers during this month makes her "feel less alone in this community." 
   While Ramirez appreciates the efforts to celebrate Hispanic heritage, she points out that "there's a clear separation from the ESOL students who are often excluded [from native English speakers in our school] due to the language barrier." Ramirez urges the student body to assess their own biases in an attempt to be more inclusive and break down those barriers.
   Spanish teacher, Mrs. Aguilar, is helping orchestrate all of the festivities this month.
   "I love being Hispanic, and I love sharing my culture. I feel like this month is, for me in my opinion, about sharing culture," Aguilar said. "That could be food, music or art. You know there are so many aspects to culture, and I'm trying to build that up here at Damascus High School."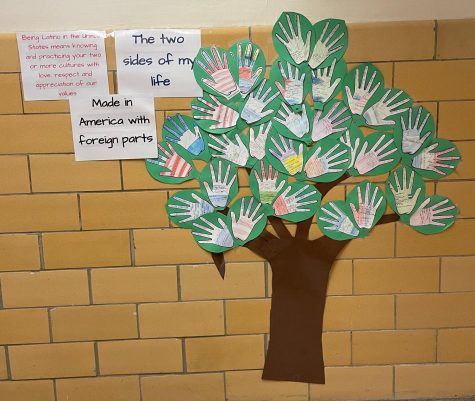 Students will learn about the multifaceted Hispanic culture at the assembly on October 27th. Hispanic students have worked incredibly hard to prepare dance performances, music pieces and works of poetry for this occasion. 
   Another activity to look out for are games of Lotería, a traditional Latin American game similar to Bingo. Periodically during the month, a table will be set up during lunch near the cafeteria so that students can try this traditional game while playing for candy. Additionally, a bulletin board will be decorated with Latin American musicians so students can immerse themselves in the culture through music. There will be QR codes alongside the musicians so students can easily access the songs.
   Aguilar is working hard to increase representation of all cultures at our school.
   "I look forward to sharing culture, not just Hispanic, but other cultures," Aguilar said. "Like African American or Asian American culture, but also celebrating the American culture, which is an amazing culture."