Calling All Paws!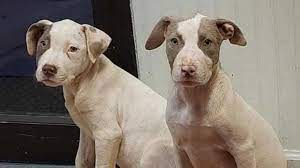 Three puppies were stolen in Atlanta and only two have been recovered and returned to an animal shelter, one remains missing. Good samaritans have been looking for the last puppy, yet they have had no luck finding it. 
   The recovered puppies were found during the early morning hours and were set to be adopted and named Violet and Emilia. The puppy missing was named Princeton. 
   The animal shelter showed that there were security cameras monitoring the incident, and the results were shocking. The cameras caught a man wearing a hoodie walking around and the sound of breaking glass.
   Emilia, the first puppy, was found in the shelter by one of the volunteers who was there to help, heal and get the dogs back to safety. Violet, the second puppy to be rescued, was seen with someone walking their dog in their neighborhood before she was brought back. Sadly, Princeton is still missing.
   Regarding Violet's return, PAWS Atlanta stated, "We have no reason to believe that the person who found and returned her is related to the break-in, and we are grateful for his care and assistance." 
   PAWS Atlanta has issued a $1000 reward for Princeton's safe return.