"SIX" Original Cast is History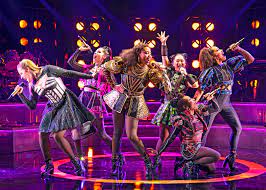 Sophia Cooper, Associate Editor-in-Chief/ News Editor
December 14, 2022
  The last members of the original Broadway cast of "SIX" departed the show after performing their roles for the last time on Dec. 4. The new queens will make their debut on Dec. 5 and everybody is excited. 
   The original cast featured Adrianna Hicks as Catherine of Aragon, Andrea Macasaet as Anne Boelyn, Abby Mueller as Jane Seymour, Brittney Mack as Anna of Cleves, Samantha Pauly as Katherine Howard and Anna Uzele as Catherine Parr.
   Becoming the first cast member to leave the show, Uzele performed as Parr for the final time on Mar. 13. Hicks and Mueller performed as Aragon and Seymour for the final time on Aug. 7. The last three original cast members Macasaet, Mack, and Pauly performed as Boelyn, Cleves, and Howard for the final time at what is now called the Lena Horne Theater on Dec. 4. The actors received thunderous applause after performing "The MegaSix." The other cast members at the time, Bre Jackson as Catherine of Aragon, Keri René Fuller as Jane Seymour and Brennyn Lark as Catherine Parr also left the show. 
   The original cast had been in their roles since 2019 when the show debuted at the Chicago Shakespeare Theater, located along the Chicago Navy Pier. "SIX" broke box office records, becoming a massive hit and its run extended. In 2020, the musical transferred to the Brooks Atkinson Theater (now the Lena Horne Theater) on Broadway with an opening night scheduled for Feb. 13. Unfortunately, Broadway musicals shut down due to the COVID-19 pandemic. The show eventually had its opening night on Oct. 3 2021 and set the record as the first musical to open after COVID.  The cast performed at the 2021 Macy's Thanksgiving Day Parade and the original cast album was released on May 6 the following year. 
   For its run at the Chicago Shakespeare Theater, the hit musical won three Joseph Jefferson Equity Awards. In 2022 the cast won two Tony Awards in addition to their incredible performance during the ceremony, four Drama Desk Awards and their original cast album was nominated for a Grammy Award this year. 
   The new cast includes Hailee Kaleem Wright as Catherine of Aragon, Leandra Ellis-Gaston as Anne Boelyn, Bella Coppola as Jane Seymour, Nasia Thomas as Anna of Cleves, Zoe Jensen as Katherine Howard and Taylor Iman Jones as Catherine Parr. Fans are beyond excited to see the new cast take on their roles in the upcoming weeks.