State Trooper Catfishes Teen and Murders Her Family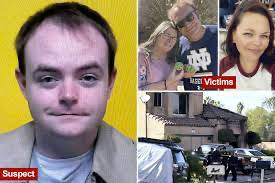 Former Virginia State trooper Austin Lee Edwards was accused of catfishing and kidnapping a young teen and murdering her family before he died in a fatal police shootout on Nov. 25.
   According to CNN, "roughly ten days after a former Virginia state trooper was hired by a sheriff's office he then traveled to Southern California and committed the murder of a teen's family after catfishing her online." 
    The shootout resulting in the Edward's death took place just hours after he committed the murder of the teen's mother and grandparents. The victims have been identified as Mark Winek, 69, his wife Sharie Winek, 65, and their daughter Brooke Winek, 38.
   Edwards kidnapped the young girl and held her captive. Reportedly, she is in protective custody and free of harm's way. Since the incident, authorities are advising and stressing the importance of teaching  children how to be safe online. 
   Upon hiring Edwards, there appeared to be no concern about his history with other jobs according to the sheriff's office that employed him. As stated by prior employers, the suspect never acted strangely or showed any signs of concerning behaviors. 
   The grandfather of the teen was a former coach in the area, and the people of the community knew the family well. At their memorial, many people attended showing their support and concern. The message shared by the local sheriff's office is to beware of children's online activity and to educate them of the dangers that come with having an online presence.