The Rise of Ice Spice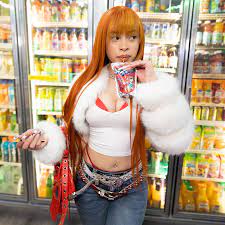 Let's be real. If you don't know who Ice Spice is by now you're missing out. Unlike many other rappers, the Bronx native can catch any vibe thrown at her from various verses to lines full of great confidence. It's clear that the rapper knows how to capture an audience's attention. 
   The 23-year-old Isis Gaston known as Ice Spice, became a Hip-Hop princess in a short amount of time. She released her first two singles called "Bully Free" and "No Clarity" in 2022. Her breakthrough was when she dropped her song "Munch" in August 2022. The song caught the attention of famous rapper Drake, who played it on his Sirius XM radio station.
   In a recent interview with "The Cut" the new artist mentioned she always felt she would be famous, crediting her popular status she had in high school.
   "Just the way people would treat me, even when it came to school or going out in public I always felt stared at," she said. "When I was at school, I was really one of the most popular people there. I always felt like, okay, I could be famous because I'm popular."
   Later, "Munch" made its way to TikTok bringing the up and coming rapper a lot of new attention toward the end of summer and going into fall. A month later, Ice Spice was offered a contract with Capitol Records and worked with the company to record and produce more hits, with the release of "Bikini Bottom" soon after. Not long after, the song blew up all over social media. She included the track in her newest EP which came out on Jan. 20, 2023.
   The EP became very successful and gained a lot of traction with newly released albums including, "In Ha Mood." She soon found her new nickname, Princess Diana which solidified her as a serious rapper in tune with new Hip-Hop trends. Ice Spice's new compilation is also an idea of mindset many of her fans have adapted, also inspired to live in the mindset that Ice Spice is slowly becoming known for luxury and self-empowerment.
   The rapper is now moving further in the mainstream culture collaborating most recently with hyper pop artist PinkPantheress on the TikTok famous song, "Boy's a Liar" which was released on Feb. 3. The song became an all-time favorite with her fanbase because she was able to capture the five stages of grief such as bargaining, anger, depression and acceptance in just 45 seconds of the song.
   Gaining three million followers on Instagram and other social media sites, Ice Spice has won over the affection of fans and other significant celebrities in modern day pop culture. She was recently seen at a Spotify event with artists such as Doja Cat and at Beyonce's annual pre-Grammys brunch.
   Ice Spice is most definitely the moment and will most likely be on top of 2023's biggest stars due to her iconic personality and loyal fanbase. She truly knows how to keep up with trends—making the trends better with her innovative rapping skills and verses.