The Future of Sports is Female: Making Progress in a Male Dominated Industry
    Women in sports media and journalism is a hot-topic. Toxic masculinity has driven this industry for decades making it hard for women to be taken as seriously as their male peers. As more women enter the industry, it becomes more diffucult to ignore the setbacks that all women in the sports industry endure. 
     There will always be a stereotype around women and sports. Whether they just enjoy watching sports, or if they actually work within the field itself. Many people believe that women shouldn't watch sports, as they are "for the boys" or that women sportscasters do not know as much as the men do. The fact that individuals believe that women should not have a voice in media, especially sports media is an outrageous, outdated concept. The hold that sexism and discrimination still has in the sports media world is baffling.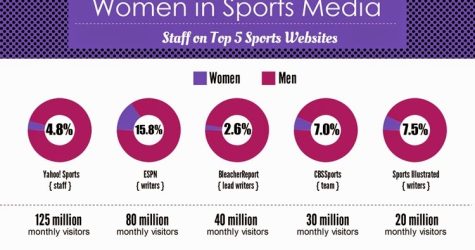 Sports journalism is an extremely male-dominated industry; only 11.5% of sports reporters in the United States and Canada combined, are women. Women in sports media, and journalism in general, is already paving the way for many future generations. Popular female sportscasters such as Erin Andrews and Charissa Thompson have started to make women's sportscasting more mainstream. Fragile masculinity is still a significant issue and by more and more women tackling it, it would change the media business as we know it. 
    National Girls & Women in Sports Day is on Feb. 2 every year. Professional sports teams highlight the women working within their organizations every year by looking back on their lasting achievements. The Detroit Lions posted a tribute to the hard-working women that work for them, "The Detroit Lions honor National Girls and Women in Sports Day by taking a look back at the women behind the organization highlighted by the Women in Football series."
    Womens' sports journalism will always be a difficult field to work in and the challenges seem to be multiplying every single day. But as more women continue to be showcased for their talents and people begin to realize they are knowledgeable in the sports field, women will be the future leaders of the industry.