Biden Nominates Judge Ketanji Brown Jackson to the United States Supreme Court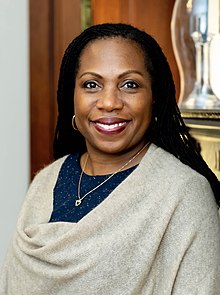 President Joe Biden nominated Judge Kentaji Brown Jackson to the United States Supreme Court on Feb. 25. Judge Jackson, who has served on the DC Circuit Court of Appeals since June 2021, is a trailblazer in the courts. President Obama nominated Jackson to be a judge for the U.S. District Court for the District of Columbia in 2012. If confirmed, the judge will be the first black woman to sit on the highest court in the country. To date, Justices Thurgood Marshall and Clarence Thomas have been the only black Associate Justices to serve on the high court.
   Judge Jackson was born in Washington D.C. and grew up in Miami. Her parents were public school teachers who attended segregated primary schools and went on to attend historically black colleges. In 2017 Judge Jackson revealed that her curiosity for the law began when she was a child and her father was a student in law school.
   "Judge Jackson traced her love of the law back to sitting next to her father in their apartment as he tackled his law school homework—reading cases and preparing for Socratic questioning—while she undertook her preschool homework—coloring books," according to WhiteHouse.gov.
   Even though she was told by her counselor that she should not "set her sights so high" after graduating from high school, Judge Jackson attended Harvard and graduated with honors.
"[Jackson] graduated magna cum laude from Harvard University, then attended Harvard Law School, where she graduated cum laude and was an editor of the Harvard Law Review," according to a bio by White House.gov.
   Soon after graduating from law school, Jackson clerked for Justice Stephen G. Breyer, whom she hopes to replace on the Supreme Court. She has publicly commented about her experience clerking for Breyer, who had administered her oath of office when she was sworn in as a federal judge. After her clerkship, Jackson became a public defender, which will make her the first former public defender to ever sit on the Supreme Court if confirmed. 
   President Biden has made it clear that he took the advice of the senators from both parties prior to nominating  Judge Jackson, which is a Constitutional requirement. The President also "studied the histories and case records of candidates and consulted legal experts" prior to nominating Jackson.
   With Jackson's nomination, President Biden is keeping a campaign promise where he declared that if elected, he would appoint a black woman to serve on the Supreme Court. Dates for the Confirmation hearings have not yet been announced.