Anti-Semitism in MCPS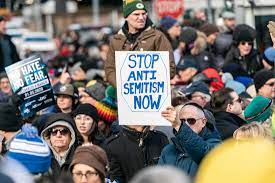 Sophia Cooper, Associate Editor-in-Chief/ News Editor
February 2, 2023
   Some 200 sophomores will be taking a field trip to the United States Holocaust Memorial Museum on Feb. 3, a week after Holocaust Remembrance Day. Both the upcoming trip and Holocaust Remembrance Day shine a light on the recent acts of anti-Semitism throughout MCPS.  
   One of the units within the 10th grade English curriculum is the Holocaust and students read books and are educated about the tragedy that is the Holocaust. The field trip is happening exactly one week after the International Holocaust Memorial Day that was designated to take place on January 27 by the United Nations General Assembly to commemorate the anniversary of the liberation of the concentration camp Auschwitz-Birkenau. 
   To remember the lives lost, people can take part in any of the following activities. 
Visit a Holocaust Museum 

Light a candle 

Watch survivor testimonies

Read the names of individual people killed in the Holocaust

Post on social media about remembrance day and survivor testimonies with the hashtag #HolocaustRemembrance and #WeRemember
   As of late, MCPS has experienced a number of anti-Semitic incidents in multiple schools. Anti-Semitic graffiti was found at Walt Whitman High School in Dec. 2022. The most recent act of vandalism occurred at Col. Zadok Magruder High School where anti-Semitic graffiti was found on a desk.
   A letter to the community was sent out by the principal and because of the rise in incidents, the Board of Education released a statement "condemning all acts of antisemitism in any form."
To learn more, visit one of the following sites: