Trump Indicted On Criminal Charges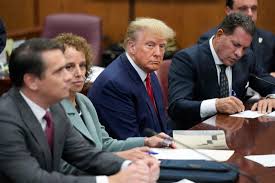 Sophia Cooper , Associate Editor-in-Chief/ News Editor
April 14, 2023
    Former president Trump has made history although not the way that he wanted. Trump was indicted on Mar. 31 by the Manhattan Grand Jury on over 30 counts of business fraud related to paying hush money to adult film star Stormy Daniels. This is the first time a former president has been indicted of a crime. 
   This came as a shock to Trump and the world because although Trump began bracing for indictment, he was not expecting to be charged this quickly. Manhattan District Attorney Alvin Bragg has been investigating Trump for over a year and his decision to charge the former president will be one that will go down in history. The grand jury investigating Trump has been hearing testimony for days. The former president's indictment was announced in a post from D.A. Bragg on Twitter: "This evening we contacted Mr. Trump's attorney to coordinate his surrender to the Manhattan D.A.'s Office for arraignment on a Supreme Court indictment, which remains under seal. Guidance will be provided when the arraignment date is selected."
   It did not take long for politicians to give their opinions about the historic occasion. GOP supporters posted pro Trump statements and came to his defense while many Democrats reminded the people that nobody is above the law. 
   Trump left Mar-a-Lago on April 3 for his arraignment in New York and was met with waves of supporters until he reached his helicopter to which he was escorted by security. 
   Although D.A. Bragg is the one to follow through with the indictment and arraignment of the former president, the investigation was started by his predecessor, Cy Vance. 
   People protested outside of the NY court house where Trump pleaded not guilty to 34 criminal charges. Rep. Marjorie Taylor Greene was seen on the scene of the protests. NYC Mayor Eric Adams had previously warned that law enforcement will not hesitate to arrest anybody who broke the law while protesting Trump's arrest. 
   The question on many people's mind is, will he be legally able to run for president if he has been charged with a crime? Unless they have broken Constitutional Law, a person is able to run. If Trump were to be charged with the January sixth insurrection, he would be unable to run for office, but the current charges will not legally keep him from running for president again. Trump has assured his supporters that these criminal charges will not affect his race for the 2024 presidency.