Save The Swarm
A Sophomore's Perspective
Matthew Mills – Staff Writer
   I've been going to the football games since third grade. I was always fascinated with the student section. Up until sixth grade, I wasn't allowed to leave the stands. I had to sit with my dad. When middle school came around, I sat with my friends and wandered around the stadium. I always saw the student section and admired it from a distance. I admired everybody yelling, the synchronized chants and the powder being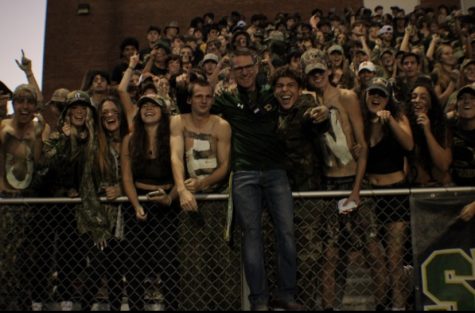 thrown at the beginning of each game. All I knew was that I wanted to be a part of it so much that I would stand behind the student section and get the fallen cups and throw the colored powder. It threw a wrench in my plans when I missed my freshman year of high school due to the pandemic. Not only did I miss the games, but I couldn't be in the student section because of it. Then the next school year came and sports were back. I was excited. Friday Night Lights. Fridays in Damascus. My first game in the student section was super fun and I had a good time, the energy was there. But there could have been more. Chanting helps the team and The Swarm way more than you might expect. When you hear the cheerleaders or seniors start a chant, join in! We need to get The Swarm back. I know quarantine has impacted all of us, but I believe that we can bounce back. Come out and support our community and our players. Let's become the best student section in Montgomery County again!
A Senior's Perspective
Madeline Singer – Editor-In-Chief
   Some would say Damascus has the best Friday Night Lights. I would agree – for the most part. Being a senior at Damascus High School, I know a Friday night football game is "the thing to do." The student section is the place to be. My freshman and sophomore year were amazing, as the crowd was lively, energetic, and declared the "Number One Student Section In Montgomery County." My sophomore year of high school, 2019, was an incredible experience. Our student section leaders were confident, loud, and everyone knew every single one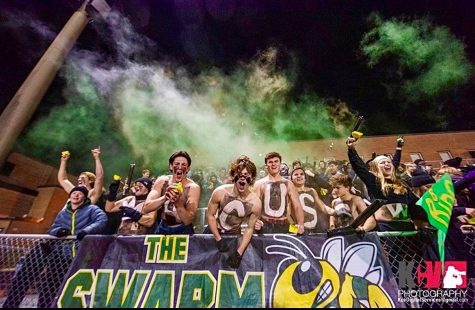 of the chants. Unfortunately, this year, school spirit spiraled downhill. Since it is the current freshmen and sophomore's first year at the high school, half of the school does not know the chants. In addition, many people leave before the game is over. Way before. Being a senior and seeing the potential of our student section I try to make the most of this situation and encourage others to do the same. When the crowd is silent or distracted, I gather friends to shout, "GO HORNETS" or "LET'S GO DAMASCUS," in an attempt to get the crowd hyped. Sometimes it works, other times it doesn't, but despite that, I realize this is my last year and my last chance to make Friday Night Lights enjoyable. It is understandable that we are in unprecedented times and COVID has impacted our society, but we need to support each other and cheer on our football team as a community. So please, join the cheers, shout to your favorite player and make this experience an everlasting memory.